How would you introduce your music to someone who's never listened to it?
Our project consists in the rock/ blues/ latin reinterpretation of the traditional roman song. Our repertory both original tracks and super well known classics, rearranged to a more modern version. Our is a form of theatrical music: the performance part of it is as relevant as the music side. It keeps our comic/surreal spirit with a romantic vane typical of the roman music tradition.
What is the musical background of the band member?
The St. Peter Stones are Eduardo Pesce (voice and acoustic guitar), Gabriele Elliott Perini (electric guitar and chorus), Matteo Festa (electric bass), Alessio Moncelsi (keyboard and piano), Carlo Mastrogiacomo (drums). Before meeting Edoardo Pesce the other four members had been playing together for years working on a psychedelic pop rock project, The Elliott. With the St. Peter Stones the change of direction towards the rock-blues was clear.
When did you start the band?
The idea of starting the St. Peter Stones was born at Contestaccio, a live music venue in Rome, in May 2012. We probably were at the fifth round of beer. The Elliot had a show there, Edoardo was schedule to open with a guitar solo…we improvised a jam session on the stage that seemed a success from the start…
Who influenced more than others your music?
The big names of the blues, rock and roll and Soul are many; writing in roman dialect is very difficult to make a parallel. But if we had to name some among thousands, I would say Muddy Waters, Hendrix, Celine Dion and Gabriella Ferri. No, maybe not, you don't mess with Cèline.
  "…Performing in your own city gives you something more, like playing at home right after a concert, for instance."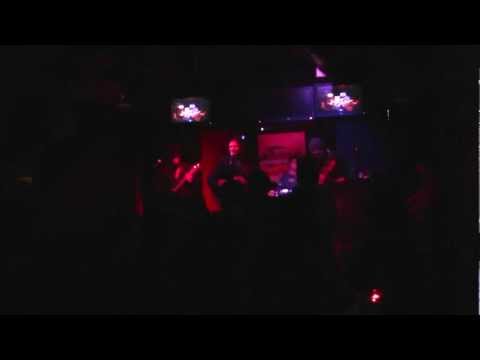 Your name comes from the famous roman cobblestone. How far does the inspiration from Rome go for?
The typical roman cobblestone, the so-called "Sampietrino", covers the streets of Rome. In a way nostalgically symbolizes the past, a more harmonious past in comparison to the a-poetic modernism of the big cities, covered in asphalt and cars. We've also dedicated a song in the album to the Sampietrino, in the song the cobblestone tells us a story. For what regards to other inspirations we had that relates to the eternal city…we can say that Gabriella Ferri gave Rome a voice, Pasolini showed us the most peripheral features. But, for sure, the elegant poetry of Petrolini, with the lyrics of the undermined "Tanto pe' cantaà"…we drew a delicate ballad from it.
What is that you love the most about Rome and how is performing in Rome different from anywhere else?
The city in August is magnificent, there is no traffic and it's easier to find a parking space, as well as tourist girls…when we play in Rome we laugh a lot, but the crowd is still very warm when we play elsewhere. Being romans, performing in your own city gives you something more, like playing at home right after a concert, for instance.
How did your sound evolve from when you started until now?
It didn't change much, we kept the same style. When we play live we often collaborate with other artists. The key is the rhythm, if people dance and laugh, it means the concert has a reason to be.
Tell us something about your album "I was born in TBM"
The album includes 11 tracks with original lyrics written by Edoardo and covers, some taken to the extreme, of classics, most of the roman songs. Clear sound but full of surprises.
What would you be today if you never started working to become musicians?
Francesco Totti once said that if he never become a soccer player he would be working at a gas station. If we weren't musicians we would be porn stars, but would definitely go get gas at Totti's station. And at night, as spectators, we would run out to listen to the St. Peter Stones!
Your music is a perfect combination between blues and the comical verve of Edoardo Pesce…

"The two elements marry well because Blues is by definition bittersweet, comical and nostalgic, like the roman soul."