ABOUT Lana Takori
Lana Takori is the creative mind behind the exclusive knitwear brand, Tak.Ori Italy. Following 15 years working in the luxury fashion industry it was a natural progression for Lana to start her own line and with a penchant for collecting hats and scarves everywhere she went these pieces became the starting point for her fashion label. 

Made in Italy and often handmade, Lana has set her sights on revolutionising the fashion knitwear scene. By creating pieces which lend themselves well to any style of clothing, using beautifully crafted cashmere, extra virgin wool and mohair, her mission is bearing fruit as her unique and eye-catching designs with their ageless style.
How did the idea of starting a fashion brand come about?
When I was a little girl, I made dresses for my dolls. Since then it had always been a dream to design and create, however fashion wasn't really thought of as respectable industry, so initially I went in a different direction. However following 15 years working in the luxury fashion industry it was a natural progression for me to start my own line.
Why did you choose hats as iconic accessory pieces to start your venture?
Collecting hats from around the world was and still is my passion; it occurred to me that there wasn't a single brand that was specifically well known for their hats, with them often missing from collections. I think that the right hat can change your look and mood for today, completing your outfit!
You once said "The type of hat a woman chooses to wear is often the reflection of her personality". So, what is the hat that represents you the most?
That hats that I love the most are always chunky, like the Cortina beanies from my collection which are luxuriously cozy and soft. I also like wide-brimmed felt hats.
How does your Eastern European heritage inspire your designs?
Quite a lot actually! The Fall/Winter '14 collection was very much inspired by traditional Russian and Ukrainian costumes, especially the colours and patterns. We're all influenced by our surroundings and upbringing and I think often our strongest influences come from our childhood. Having said that, as a very cosmopolitan person the traditions and history of a number of countries I have visited have impressed upon me greatly. I can find inspiration in any country by immersing myself in that culture whether it's listening to music, reading books or watching films. This makes me feel connect a culture in such a way that I feel almost as if I had been born there be it Spain, England or Italy!
"The Tak.Ori woman is a free thinking woman who has her own sense of style and isn't afraid to be bold in her choices." 
Who is your fashion icon?
Women from bygone eras have always inspired me. They always seemed bright and somewhat eccentric, yet at the same time incredibly elegant. It might be that we can now never know their flaws, unlike modern days celebrities who often disappoint with stories in tabloids. I think that Marchesa Luisa Casati had incredible charm and class as well as a strong personality. I also love Nan Kempner for her completely timeless style that yet seems very appropriate for nowadays.
Your first full ready-to-wear collection debuted at Altaroma and you were part of the "Who is on next" Vogue presentation at Palazzo Morando during MFW SS15. How was this experience of launching the collection and presenting it to the most influential people in the industry?
I cannot tell you how grateful I am for this experience and I was so happy to receive the letter from 'Who Is On Next 2014' saying that I had made it into the final over 300 applicants. Even though it was such a huge achievement for us to be in the final, I was still very nervous right up to the last minute… I felt as though there wasn't enough time for me to do everything! What Is On Next gave me such an amazing opportunity, enabling me to present the collection at my very first fashion show. I was able to share the experience with so many interesting and wonderful people and got to see what other exciting new designers are working on.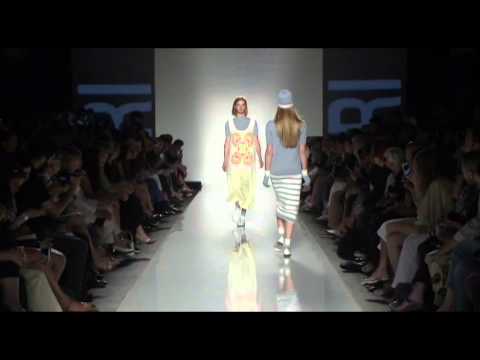 You always try to connect with your customers through the internet platform, with contests or custom made pieces available on your website. How important is that relationship for you?
I love living in this present technological age where communication throughout the world is so simple. It's so easy for us to share ideas and information, to talk to one another and to express our interests and feelings. I think it's hugely important! Through communication we can create beautiful things, thus using these technological achievements towards peaceful ends.
What advice would you give to someone who is starting their own line?

Be true to yourself! Only do what feels right to you and what you yourself enjoy. Don't try to imitate others or worry about being "trendy", if you love what you create, there will be others out there who love it too. Don't be afraid to like the designs and work of others too… there's plenty of room on this earth for everyone!