ABOUT jonathan and alex torrey
Jonathan & Alex Torrey are passionate about fashion and philanthropy. Their model-off-duty style is influenced by NY rock grunge and LA slouchy surfer lifestyles. Luxe but casual. The brothers are maniacally, relentlessly, and zealously obsessed with elevating everyday fashion essentials to create fashion with a purpose. Kids draw the PocketArt and the brothers use their designs, skillfully crafted from freakishly soft fabrics, as a canvas to showcase the raw, confident, and inspiring creativity of kids' artwork. Jonathan & Alex are passionate social entrepreneurs, they believe that a sound business idea can also help solve a global problem. umano is homegrown in Athens, GA and empowers kids worldwide.
Be brave, be bold, and do something about it.
How did you start umano?
Umano started as a passion project we worked on during evenings and weekends and soon became an obsession that lead us to take the plunge and move back home to focus solely on fashion with a purpose. We believe that you don't have to choose between doing well and doing good. This belief led us to found the fashion brand umano (Italian for "mankind") in 2011 in Athens, GA.
What kind of background do you two have?
Despite not having much fashion experience (zero to be exact), we set out to create fashion with a purpose because we believe that every kid deserves a chance – it is not about geography, color or creed. Neither of us have a background in design or fashion. We studied marketing, economics, business and finance at the University of Georgia.
What drew you to the cause of education?
Our parents are both educators who ignited a strong belief within us. The belief that basic education—reading, writing and counting—has the power to help kids lift themselves out of poverty and create their own path to prosperity.
Building umano, what was the biggest challenge you faced and how did you overcome it?
Our biggest challenge in the beginning was having limited experience and resources. We both had to wear so many hats and the learning curve was steep. Since we dove into a completely different industry, we've had to rely a lot on each other. Our passion and drive to create fashion with a purpose has given us the strength to push past the obstacles along our journey. We're still learning and growing everyday with the help of our incredible family, friends, and amazing team in Athens, GA.
"We want to do well and do good. We're not here to give handouts, we're here to help kids help themselves succeed." 

Alex (left) and Jonathan (right) rocking THE FIXIE and THE SKULL PocketArt
Where did the idea of PocketArt come from?
It all started with a kid handing us a drawing. What better way to display their cool art than by rocking it as a pocket? PocketArt gives kids a voice to share their inspiring stories and empowers them to help themselves succeed.
Talk us through umano's "virtuous cycle", how does it work?
We work with local Giving Partners in Peru, Mexico and the United States, and we're excited to expand our Giving Programs to Haiti this year. On our Giving Trips we give backpacks full of school supplies to kids to equip them for the school year. On those Giving Trips we also collect drawings from the same kids that we develop into PocketArt for our fashion essentials.
What was the best experience you had during one of umano's "Giving Trips"?
One of the most impactful experiences we've had was on a Giving Trip in the mountains of Pisaflores in Hidalgo, Mexico. We visited 12 schools in 3 days. The schools were spread across the rugged, mountainous region and were often very difficult to reach by vehicle. We had to walk up dirt roads carrying all of the backpacks with us to reach the schools, many of which were literally on cliffs off the side of the mountain with dirt floors and branches for roofs. The trek was more than worth it, as we were told the kids are only given one pencil a year for school supplies.
What goals did you reach since the beginning of umano?
We are very grateful to have reached some awesome goals, including proving the fashion with a purpose concept, making strides to continue perfecting the most iconic fashion basics, and just making it to this point as a bootstrapped fashion brand from Athens, GA. However, our biggest goal and the one the drives everything we do is to make the best, positive impact to empower kids with basic education. We are nearing the 10,000 backpack mark but we have our work cut out and it will come down to the last-minute holiday season. We plan to publish our first annual Giving Report around yearend.
"Kids draw the PocketArt and with every pocket you purchase, umano will give a backpack full of school supplies to empower a kid."

umano Giving Promise 
Tell us about the meeting with Blake Mycoskie that led to the collaboration with Toms…
We were very fortunate to have the opportunity to "run in" to Blake last summer. We parked our little RV very early in the morning in front of the TOMS flagship store in Venice Beach, CA and soon enough met Blake when he stopped to check it out on his way in to the store morning. We were worried for a moment that he would (rightfully) have us towed for blocking his entire storefront but he was only friendly and approachable. Blake has inspired many to apply a unique business model to entrepreneurship and he certainly inspired us. Getting to meet him and his rockstar team at TOMS was an incredible experience. We chose to lead with our fashion foot to create a fashion brand that is known for our freakishly soft fabric, elevated look, and quality craftsmanship but our giveback, inspired in large part by Blake's "one for one," will always be at the very core of our brand. It's in our brand's DNA, our raison d'être.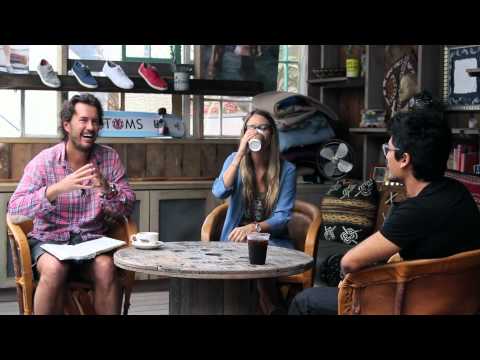 Core collection, umano Classico, launched last June. What makes it special?
Our Classico core collection is the heart and soul of umano and the cornerstone of our brand's aesthetic.  We spent nearly a year perfecting the seven silhouettes and about three months on the factory floor developing our signature omobono jersey knit fabric. The Classico collection embodies the understated confidence and elevated simplicity of the umano girl. umano Classico is inspired by the plainspoken aesthetic of downtown Manhattan and the genuine ease of the West Coast surf culture. It is so special to us because it is a collection reserved for our most iconic and heroic styles, and growth of a new collection means growth of the movement.
Describe umano with 3 words

"Fashion with a purpose (oops that's four!)"

umano Classico scoopneck tee with THE GEORGE